Thank you, thank you, thank you. I simply must start this report by sharing my gratitude for everyone who helped to make hoops, donated money, materials, time and effort to get hula hoops to the kids in Tohoku. The trip was a great success and it would not have happened without your assistance.
As a special guest of the Tyler Foundation's Smile Ambassador program, I travelled with Guy Totaro and Keiko Fukumoto for five days to communities in southern Iwate prefecture that were devastated:  Otsuchi, where the town burned to the ground after it was swamped by the tsunami; Kamaishi, whose impregnable seawall failed; Rikuzentakata, where a lone pine stands where 70,000 once lined the beach; and Ofunato, our home base for the week and the area's largest town.

Principals and teachers accepting our donations.
We delivered hoops to four elementary schools and did over 20 shows, workshops, and special performances at eleven schools. The variety of schools was amazing. There were two schools sharing a school building that had been spared;  a preschool in prefab temporary buildings on a  windy hill; an elementary school that had been partially flooded but now shone with the industry of many little hands; a kindergarten installed in an old community center; a school whose grounds were so thickly covered in temporary housing that it was difficult to figure out where to enter the school.
At every school we were invited to the principal's office for tea or coffee and a little snack. I listened carefully and learned a lot about the schools' futures. Some are rebuilding, but several are disbanding after 150 years to create a new area-wide school. The stories showed me the myriad ways recovery from a disaster can progress.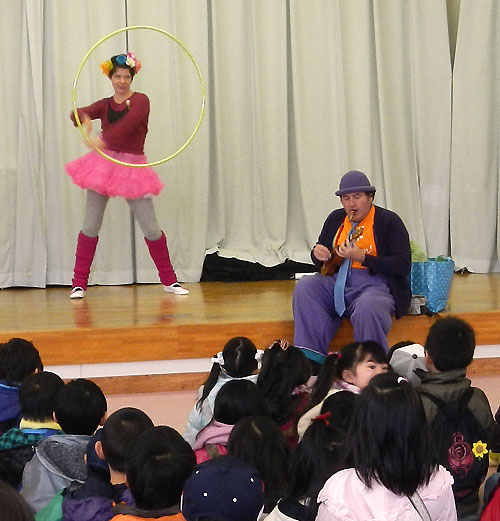 As I hoop danced, Guy played the ukulele and kazoo!
Our programs varied as much as the schools. For the younger kids we did hoop games and a hoop performance, along with Guy's funny juggling and magic tricks. For the older kids, I led hoop dance workshops that culminated in a class performance for the teachers. It was energising for me; I think the kids enjoyed it just as much. They are so natural and such quick learners with movement that in some classes with the upper elementary students, I extended our dance routines with extra moves.
One thing did not vary – all the kids were energetic and enthusiastic. We saw  nothing but smiles and exchanged hundreds of high fives (which may have been what caused me to return to Tokyo with the flu despite frequent handwashing, oops.)
Some of the kids stick out in my memory: a boy on the first day asked about my tattoo as I had my arms outstretched to collect hoops (I ignored him and wore sequined wristbands for the rest of the tour); the pre-school girl who said I looked Hawaiian because of the flowers in my hair; the boy who kept telling me to "Come on!" with him off to the side of the space to teach him isolations; the boy in one of the dance workshops who repeated in singsong everything I said in English; the 2nd grade girls who were eager to learn tricks and really wanted to try two hoops at once (regrettably, we didn't get that far); the class where every child decided to do the dance routine instead of Guy's optional feather balancing tricks.
In one of the workshops, a cute bespectacled first grade boy learned my name immediately and used it through the whole session. He seemed concerned when I announced that I was going to teach the class some tricks after we'd done some warm up waist hooping. "Kristen, how difficult are they?" he asked. "Level 1 tricks," I replied and he was satisfied. He rocked the tricks, by the way, with a great deal of focus and a grin at the same time.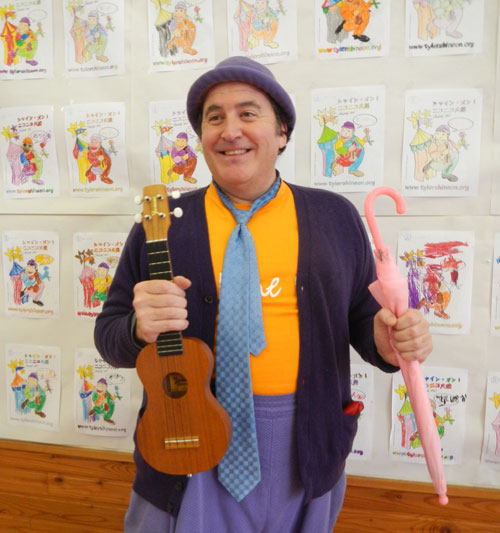 Guy beams in front of a wall of Smile Ambassador coloring pages.

Everywhere we went, the kids caught sight of Guy and came streaming out of their rooms to greet him, "Guy-san! Guy-san!" in excited high-pitched squeals. They love him and he makes a real connection to them via repeated visits. Two classes presented him with books of drawings and notes; an entire wall in one school was covered in the kids' renditions of his coloring page.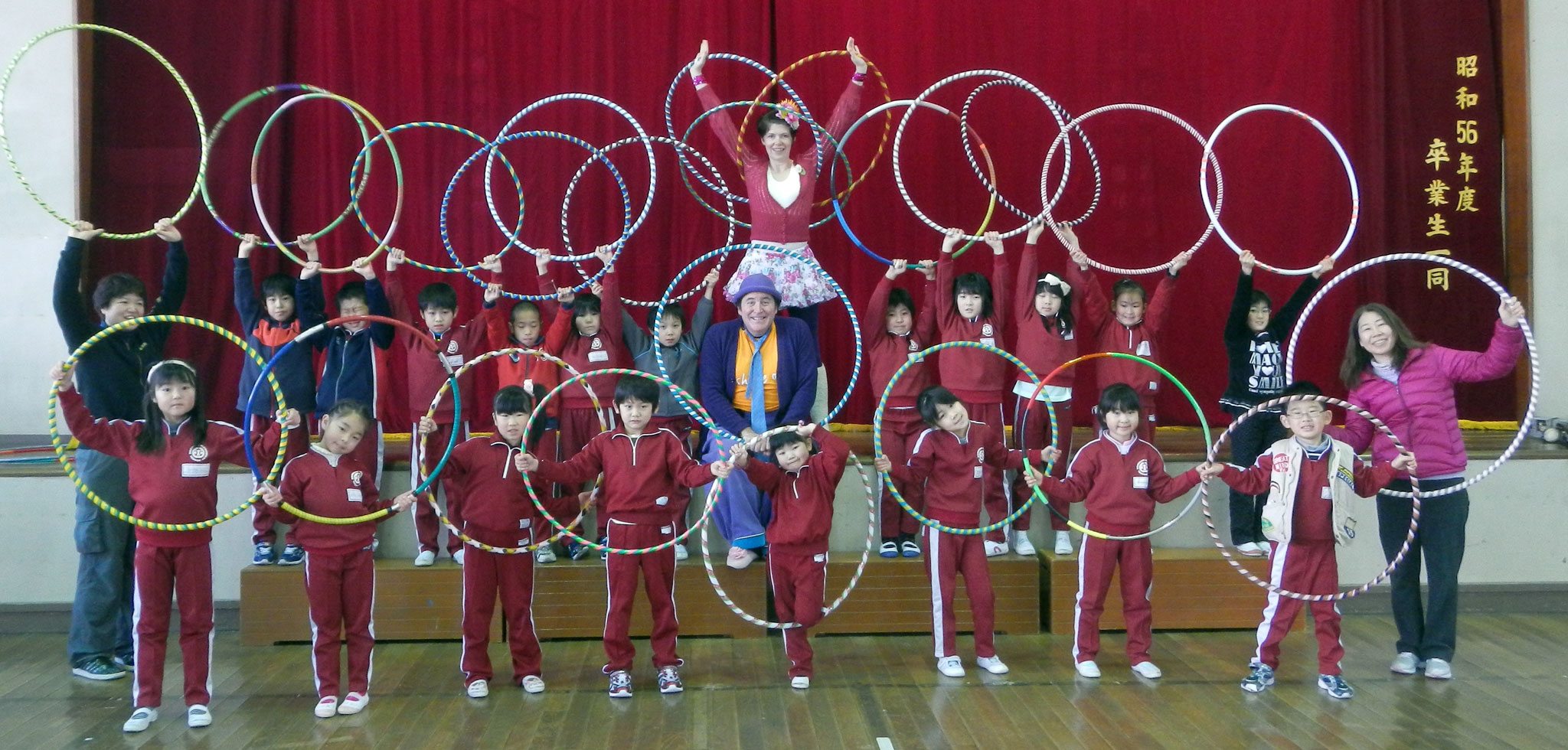 Happy children with their new hoops. 
At the schools where we donated hoops, the kids and teachers were sincerely amazed that we had made them by hand.  One of the principals figured out that they were made of PE pipe and asked how we connected them. I hope he'll consider making more as needed for his students.
There are a few more pictures in this Flickr set and I will share some more shots when I get them from Guy and Keiko.
Thanks again to all of you for your stellar support in hoop creation, to Guy and Keiko for making the week possible, and to the Tyler Foundation for funding our travel, room and board.