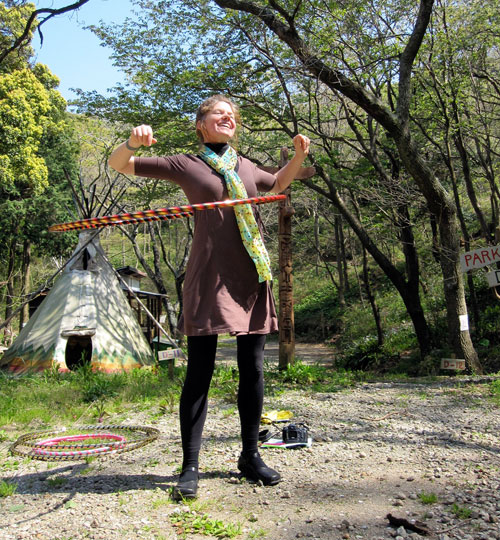 Ah, camping! Each day of Guru-guru Camp is easy, relaxed and very lightly structured.
We'll start each morning with 15-30 minutes of hoop drills to strengthen and tone our hooping bodies. Before lunchtime, Tink will lead a 60 minute hoop workshop. In the afternoon, there's plenty of free time or maybe another workshop or group activity before the sun sets, depending on our mood. You are invited to teach a workshop, lead an activity, or offer services of any sort. Share your talents and skills. Simply write your session on the schedule at the Guru-guru Camp HQ when you arrive.
Guru-guru Workshops
Fri 4/29 AM: Arrival. PM: Hoop Drills Introduction.
Sat 4/30 AM: Hoop Drills. Original Hoop Trick.
Sun 5/1 AM: Hoop Drills. Hoop Games for World Laughter Day.
Mon 5/2 AM: Hoop Drills. Hoop Dance Styles.
Tue 5/3 AM: Hoop Drills.  Hoop Meditation. PM: Mandala Drawings
Wed 5/4 AM: Hoop Drills. Hoop Choreography. PM: Camp Dinner/Party
Wed 5/5 AM: Depart for Tokyo.
(The schedule is subject to change on short notice for a variety of reasons including weather and whim.)