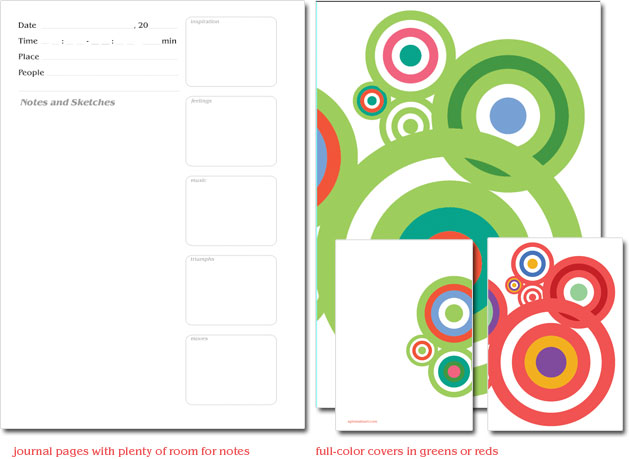 Tracking your hooping progress has never been prettier.  Each page of this DIY journal includes space for the details of your practice – date, time, location, and who you were hooping with. It also features spaces for you to note inspirations, feelings, the moves you worked on, triumphs, and the music you hooped to. Plus there is plenty of open space for all sorts of notes and sketches: costume ideas, tips for tricks, choreography notes…
The pages are not dated, so you can start at any time and if you miss a few days of practice, you don't have to skip any pages. 91 double-sided sheets will give you enough pages for 364 days. To track your progress in a 30-day hooping challenge, you need eight double-sided sheets and that gives you two bonus days, too.
The journal is sized to fit into your bag so that you can take it with you wherever you hoop. 8″x5.5″ or A5 size, depending on your part of the world.
How to Make Your Journal
Print the page template and copy it double-sided. Each sheet becomes four pages.
Print the cover (green or red) onto heavy paper or card stock.
Fold and crease the pages and cover down the centers.
Staple the pages and cover together like a magazine.
Alternately, take the files to your local copy shop for professional copying and saddle stitching with a heavy-duty stapler. The pages can also be cut and perfect bound or spiral bound for a thicker annual journal.