Finding hoop-making supplies in Japan has taken lots of research, trial and error, plus great tips from hooping friends. I want to share my resources with you so can get your own hoop factory started. If you have any tips about alternate supplies or resources, please share them in the comments!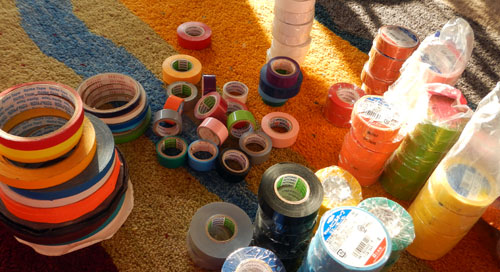 テープ Tape
ビニールテープ Colored Vinyl
Vinyl tape comes in many colors and is inexpensive. Standard roll size is 10m and 19mm wide. One roll will cover an 80cm hoop if you tape neatly.
Online vendors are convenient for large orders – tape is heavy to haul around town. I use Rakuten for my online shopping, but Yahoo and Amazon also have tape.
ダイソ Daiso sells only primary colors, but at 3 rolls for 100 yen, you can't go too wrong.
Local hardware stores carry a range of basic colors and some shops have the pastels ones, too.
The most difficult color to find is purple.  This is the stuff to search for: ヤマト ビニールテープ NO.200-19 紫 There is also a 3M brand purple tape; it is about 500 yen/20m roll.
ガッファーテープ Gaffer
Gaffer tape is made of fabric; we use it to add grip to our hoops.
キラキラとデコ Shiny & Fancy
To glitter and shine your hoops, fancy and shiny tapes are fun but a little hard to get. Beware of tape without adhesive that is used for streamers at parties and events. It comes on rolls and looks exactly like adhesive tape but should say 粘着加工はしておりません on the label.
フープ東京 Hoop Tokyo has a range of styles and colors. http://shop.hooptokyo.com/
 ダイソと100円店 Daiso & 100 yen stores. It's a bit hit or miss, but sometimes you'll find unique deco tapes, including thin metallic tapes.
Tokyu Hands, art stores, and stationers sell "cutting sheet" which is self-adhesive colored vinyl by the meter. It can be cut to any width strip for taping hoops and comes in a variety of colors, including holographic patterns.
Hardware stores carry adhesive vinyl shelf papers in matte patterns and colors. Can be cut into strips for hoop tape.
Identi-Tape. Based in the US. Wide variety and great prices on tape; shipping can be expensive. http://www.identi-tape.com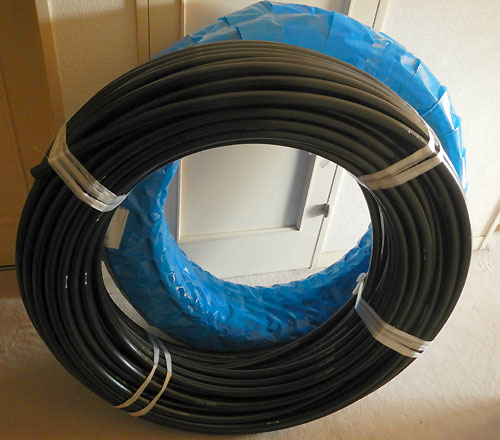 パイプ Pipe
ポリエチレンパイプ PE Pipe
1/2″ recycled black polyethylene is soft and flexible. Good for springy hoops no larger than 90cm. This is the pipe was are using to make charity hoops for Tohoku and the Peace Boat. It's economical, only 9000 yen/120m roll, but you must buy two rolls or more.  http://www.omn.ne.jp/~do/per.html PER-12 内径16.1mm×120m
架橋ポリエチレン管 PEX tubing
is stiffer than PE, so it makes good hoops for off-body, breaks, and larger size hoops. There are several Japanese manufacturers, including ONDA and Sekisui. The standard sizes we use are 13A (17mm OD) and 16A (22mm OD). 100m of 13A costs about 15,000 yen. http://www.meguro-seiwa.com/shop/25.html
パーツ Parts
コネクター Connectors can be made from a range of materials – from pipe to wood dowels to wine corks. The key to a good connector is a tight fit. Check the inner diameter (ID) of the hoop pipe to help you find the right size. If your connector is too small, try wrapping it with vinyl tape.

ホワイト丸パイプ White Maru Pipe is stiff and suitable for rivet closures with PEX pipes. It has a tendency to crack with heavy use. Number 15 fits into PEX 13A; 18 fits 16A.
Insert connectors. I have yet to find these PVC treasures in Japan.

ブラィンドリベット Blind rivets can be found in nearly any hardware store. I use  ones with an aluminum flange and steel shaft, diameter 2.4mm and length 3.2-6.4mm. Any rivet long enough to fit through both your hoop pipe and connector will work. Make sure you have a drill bit of the correct size.

樹脂チューブカッタ Ratcheting pipe cutter is a key tool to making tidy cuts in your pipe. They cost about 2500 and are a wise investment if you are going to make a lot of hoops.

Ready-Made Hoops
If you simply want to decorate hoops, I recommend buying "color rings," which are basic school hoops. The 90 cm size is pretty good for most adults; the 80s make nice twins. Although they are rather light, tape will add weight to them. They are very durable (mine lasted over three years of hoop jams and frequent use) with heat welded connections. I get mine 5 at a time from a vendor on Rakuten, but you can sometimes find them individually at Tokyu Hands or sports stores. 5 piece set of 90cm hoops, 6500 yen. http://item.rakuten.co.jp/rokusen/g2193/