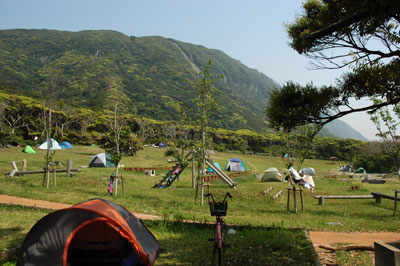 April 28 – May 5, 2011 @ Niijima Campground • FREE!
Hop the ferry from Tokyo to Niijima for a Golden Week getaway. We'll hoop and spin our toys on the beach and in the grassy campground. Stay one night or all week; it's up to you.  Themed hoop workshops every morning and time to chill out, spin out,  relax, explore, and enjoy. Hoop, poi, staff, juggling, fire and other spinners all welcome. Non-spinning friends, too.
Full details, access info and more.
GWぐるぐるキャンプ
4月28日〜5月5日@新島キャンプ場 • 無料!
ゴールデンウィーク休暇のための新島に行きましょう。ビーチや草で覆われたキャンプ場で私たちのフープをスピンします。滞在は一晩、またはすべての週、それはあなた次第です。非キャンパーは、島の多くの旅館の一つにとどまることができる。
テーマフープは毎朝のワークショップ!素晴らしいサイクリング、サーフィン、ガラスアート、リラックスして探索し、楽しむ空間の多くは新島にあります。フープ、ポイ、スタッフ、ジャグリング、火災や他のスピナーすべてを歓迎。あまりにも非回転を見る。
詳細 (英語のみ)