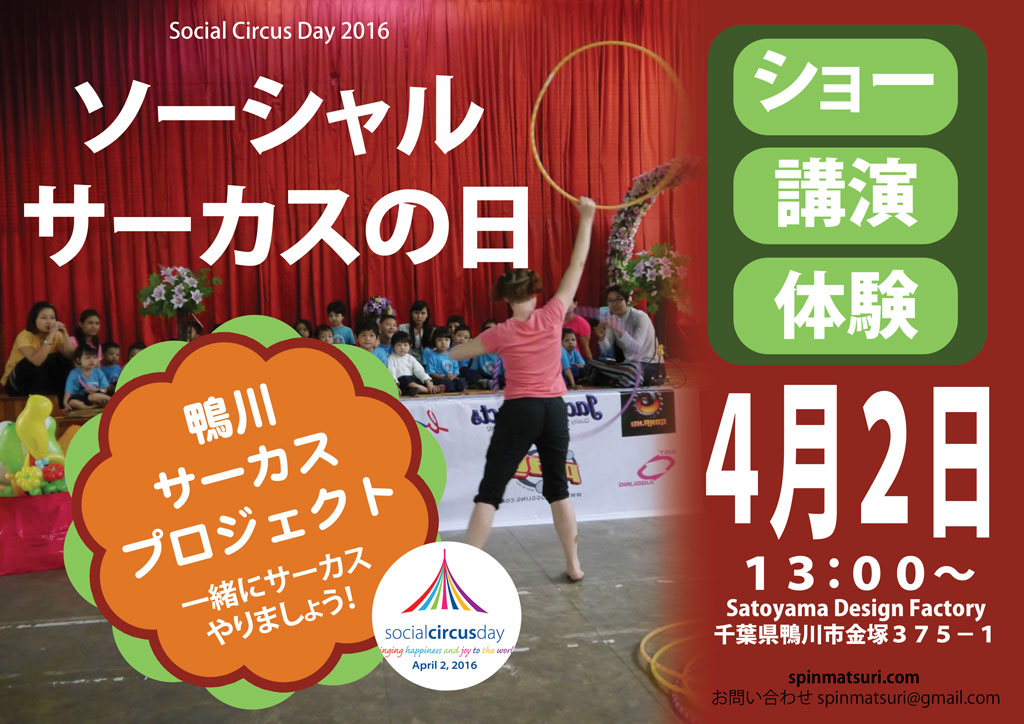 4/2はソーシャルサーカスの日!世界中ソーシャルサーカス無料エベントがあります。里山デザインファクトリー(千葉県鴨川市金束375−1)で:
12:45 入場
13:00 ショー  ティンクや友人
13:30トーク  ソーシャルサーカスのトピック&鴨川サーカスのプロジェクト
14:00 体験 -サーカスのゲームと技
ソーシャルサーカスとは、社会貢献を目的とするサーカスのことです。通常のサーカスと同じように、子供からお年寄りまで様々な人が楽しめる内容になっていますが、ソーシャルサーカスが特に対象とするのは、経済的に恵まれていない人や障害を持った人です。
Join Spin Matsuri for an afternoon celebrating social circus. There will be a show, a presentation, and time to try circus for yourself.
See what we've been up to for the last few years and learn about a new social circus initiative: Kamogawa Circus Project. Find out how you can participate and support us.
April 2, 2016, from 12:45pm at Satoyama Design Factory in Kamogawa, Chiba, Japan.
#socialcircusday